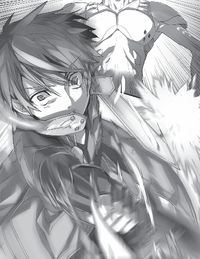 Kazuto Kirigaya, in-game name Kirito, originally a Sword Art Online character, appeared in a short story in Accel World Light Novel Volume 10 chapter 3 and Manga Chapter 18 onward to chapter 20 and had a battle with Silver Crow.
Accel World Novel Volume 10, Officially Licensed English Translated Version, will be released at June 20, 2017.
English edition of Accel World VS Sword Art Online: Millennium Twilight will be released to the west in Summer, 2017.
Information updated at 2017-04-17 Japanese Standard Time 02:48

Loading RSS data...
Rate Accel World: INFINITE∞BURST.

The Snow Fairy
December 10, 2016
ISBN 978-4-04-892390-3
Ad blocker interference detected!
Wikia is a free-to-use site that makes money from advertising. We have a modified experience for viewers using ad blockers

Wikia is not accessible if you've made further modifications. Remove the custom ad blocker rule(s) and the page will load as expected.