Kurumi Kurama (, Kurama Kurumi) is a Level 7 Burst Linker and currently the vice president of the Mathematics and Martial Arts Research Club (or "Enbuken") at Seibi Academy. She is one of the main characters of Accel World dural: Magisa Garden.
Background
Edit
Not much is known about Kurumi's personal background, save for her and Yuuko Hoori possibly being in a relationship and them having a relationship to Touga Toudou.
Appearance
Edit
She has short black hair and is often seen wearing a suit.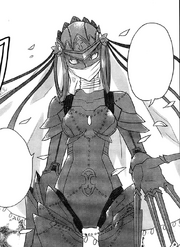 Ad blocker interference detected!
Wikia is a free-to-use site that makes money from advertising. We have a modified experience for viewers using ad blockers

Wikia is not accessible if you've made further modifications. Remove the custom ad blocker rule(s) and the page will load as expected.